Therapists & Researchers
Pat Harvey, LCSW-C
Private practice in Rockville, Maryland
Cofounder of the Metro DC DBT Consortium
Ms. Harvey describes dialectical behavior therapy, or DBT, and how it can help family members of children, adolescents and adults who have intense emotions.
Listen

Alexian Brothers Behavioral Health Hospital
Alexian Brothers Behavioral Health Hospital is a premier provider of mental health and addiction services in the Northwest suburbs of Chicago. All levels of care are provided, including inpatient, partial hospitalization, intensive outpatient, and outpatient programs. We specialize in the treatment for mood disorders, anxiety and OCD, addictions, eating disorder, and self-injury — and we serve all age groups.
Sign up here to receive Anxiety & Depression Insights, the free e-news brief that delivers timely, relevant news about anxiety disorders and depression to your in-box twice a month.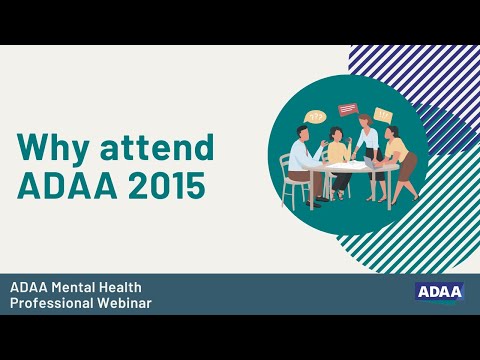 Why is the Anxiety and Depression Conference a must-attend event? Find out what psychologists, psychiatrists, researchers, clinicians, and others say about their experiences in 2013 and the benefits they find so useful.
Watch
In his new book, author Scott Stossel reveals his lifelong struggle growing up and living with severe anxiety disorders — and why getting early treatment for children is so important.
Free Community Event
Wednesday, March 26, 2014
1:00 – 4:00 pm
Marriott Ballroom – 4th floor
Chicago Marriott Downtown
540 N. Michigan Ave.
Chicago, Illinois
Parents will do anything to help their children. Read one man's story of chronic and severe anxiety that began early in his childhood. The editor of The Atlantic magazine, Scott Stossel still struggles with sometimes-disabling symptoms, but he manages his disorders and lives a successful and highly productive life.
Trouble sleeping and nightmares are two symptoms of PTSD. If you've experienced a traumatic event, find out what you can do to improve your sleep.
Many people have trouble sleeping at times. But it's more likely after you have experienced an accident, war, assault, disaster, or other traumatic event.

You may find you are sleeping too little, or too much, or having nightmares. If these symptoms don't go away, get worse over time, or interfere with your daily life, it might be time to see a doctor.
Trouble sleeping and nightmares are two symptoms of PTSD.