Children
"It was so embarrassing to have to tell my friends about my problem, but I knew it had to be done."
My name is Jordan. I am 11 years old.
About one year ago, I began experiencing a feeling of terror and panic during everyday situations. I was scared of everything, from going out to eat to going to a friend's house. I told my parents, and we thought it might just be that a lot was going on. So we waited. As months went on, the anxiety and panicking didn't get any better, and everything started to go downhill. I sort of figured I was going to be like this forever.
Read
"I spent hours in the bathroom scrubbing my hands raw. I felt that if I didn't take part in this routine, my mother would die. I forced myself to eat foods that I absolutely hated. "
My experience with obsessive-compulsive disorder (OCD) began in the summer I was seven years old. My father was planning a vacation to Florida with his girlfriend, my five-year-old brother, and me. I was so excited about seeing the beach and feeling real sand for the first time.
Read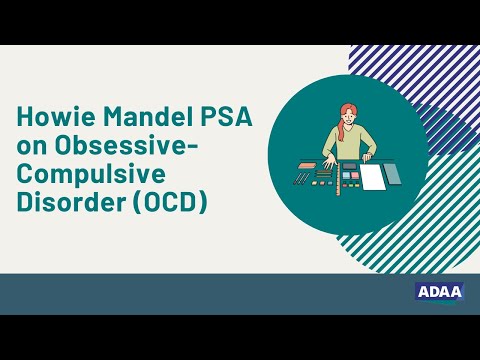 TV personality and actor Howie Mandel shares his struggle with obsessive-compulsive disorder (OCD) in a public service announcement for the ADAA campaign "Treat It, Don't Repeat It: Break Free From OCD."
Watch
If you think your child may have an anxiety disorder, please answer the questions below, print out the page, and share the results with your child's health care professional.
To locate a specialist who treats anxiety disorders in children, visit the ADAA Find a Therapist.
Like other medical conditions, anxiety disorders tend to be chronic unless properly treated. Most kids find that they need professional guidance to successfully manage and overcome their anxiety.
Several scientifically proven and effective treatment options are available for children with anxiety disorders. The two treatments that most help children are cognitive-behavioral therapy and medication.
Here are things you can do at home to help your child manage his or her anxiety disorder:
Your child went to class, completed homework, and studied. He or she arrived at the exam confident about the material. But if he or she has test anxiety, a type of performance anxiety, taking the test is the most difficult part of the equation.
School refusal describes the disorder of a child who refuses to go to school on a regular basis or has problems staying in school.
Symptoms
Children with school refusal may complain of physical symptoms shortly before it is time to leave for school or repeatedly ask to visit the school nurse. If the child is allowed to stay home, the symptoms quickly disappear, only to reappear the next morning. In some cases a child may refuse to leave the house.
Generalized Anxiety Disorder
If your child has generalized anxiety disorder, or GAD, he or she will worry excessively about a variety of things such as grades, family issues, relationships with peers, and performance in sports. Learn more about GAD.
Children with GAD tend to be very hard on themselves and strive for perfection. They may also seek constant approval or reassurance from others.