Therapists & Researchers
Mark Reinecke, PhD, ABPP, ACT
Professor, Psychiatry and Behavioral Sciences
Chief, Division of Psychology
Northwestern University
Dr. Reinecke addresses adolescent suicide, what family and friends can do to prevent it, as well as effective treatment strategies for depressed adolescents.
Listen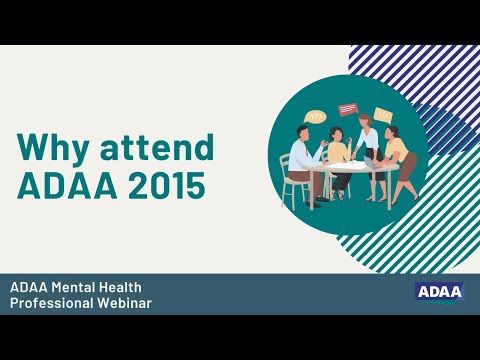 2014 Conference Co-Chairs Mark Powers, PhD, and Jasper Smits, PhD, University of Texas at Austin, describe the invaluable experience of attending the conference:
Good balance of clinical topics across anxiety and depression
Emphasis on implementation of practical skills for new and experienced clinicians
Unique opportunity to meet and hear leaders and experts
Senior leaders are accessible and available to talk to you about your career, practice, and research.
Watch
ADAA is proud to announce its new initiative, the Career Development Leadership Program, an intensive mentoring and professional development opportunity for early career clinicians and researchers.
When: March 26-30, 2014
Where: Chicago Marriott Downtown, Chicago, Illinois
Sign up now for our webinar Sleep Problems and Disorders in Children and Adolescents With Anxiety and Depression, Wednesday, September 11, 2013. Learn more.
Connections. Science. Practice. Training.
This conference is like no other in scope and depth. You will have unsurpassed access to experts in clinical care and research, opportunities to network with colleagues from around the globe, and take away experiences that will enrich your research and practice. Talk with people who share your interests and passions.
Participation in the Anxiety and Depression Conference 2014 is limited to registered attendees. All session and poster presenters must register. ADAA does not offer one-day, military, or government rates. Badges are required for all sessions and activities.
Why is the Anxiety and Depression Conference an annual must-attend event? Find out what psychologists, psychiatrists, researchers, clinicians, and other professionals say about their experiences in 2013 and the benefits they find so useful.
Here's what some attendees have to say about why they like the Anxiety and Depression Annual Conference. Watch
ADAA is the best place to connect to leaders and peers, discuss the latest research, and learn about new and effective treatments. ADAA leads the way in creating a distinctive multidisciplinary forum for those who focus on anxiety, OCD, PTSD, and depression in children and adults.
Student Membership: $50/year Join online.


Eligibility Requirements
NEW: Mobile Program App

Download SCHED to your phone, tablet, or other device.