Therapists & Researchers
People often jokingly point to odd habits or tidiness as signs of obsessive-compulsive disorder, or OCD. But the truth is OCD is a very real disorder that affects more than 2 million Americans, and there is a big difference between maintaining a morning routine or keeping a clean home and living with the disorder.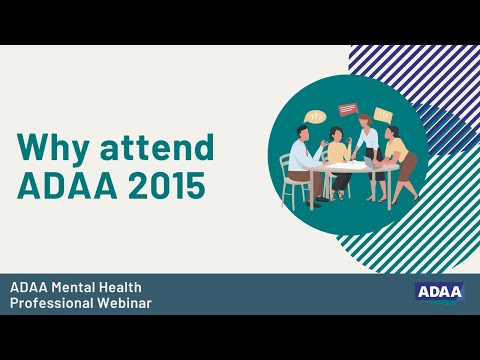 Dr. Reid Wilson, PhD, Director of the Anxiety Disorders Treatment Center in Chapel Hill and Durham, North Carolina, shares why the ADAA Annual Conference is so valuable for continuing your skills and training.
Watch
Find out why psychologist Dr. Karen Cassiday, Director of the Anxiety & Agoraphobia Treatment Center, Ltd., in Northbrook, Illinois, has been participating in the ADAA Annual Conference for more than 20 years.
Watch
Up close and personal, Conference Chair Darin Dougherty, MD, describes why he attends this important meeting every year.
Watch
Judith Cohen, MD
Medical Director, Center for Traumatic Stress in Children & Adolescents
Allegheny General Hospital
Pittsburgh, Pennsylvania
Professor of Psychiatry
Drexel University College of Medicine
Dr. Cohen discusses how children experience PTSD and effective treatments.
2014-2015 Annual Conference Planning Committee
Kerry Ressler, MD, PhD — Co-Chair
Emory University

Tanja Jovanovic, PhD — Co-Chair
Emory University

Luana Marques, PhD — Conference Coordinator
Massachusetts General Hospital/Harvard Medical School

2016 Chair
Jordan Smoller, MD
Massachusetts General Hospital/Harvard Medical School

Research Subcommittee
Standard Disclosure Slide
All speakers are required to include the content of a standard disclosure slide in their visual presentations, even if you have nothing to disclose.
Please this copy for your slide:
DISCLOSURE
I have nothing to disclose.
or
DISCLOSURE
(List only relevant relationships)
• Research Support
• Stock Equity
• Paid Editorial Relationships
• Consulting Relationships
• Speakers Bureau
Poster presenters must register for the conference and be available throughout the entire poster session to discuss the material and answer questions. Attendees must wear badges to be admitted into the poster sessions.
Poster sessions will be held during the following dates and times:
Session I: Friday, April 10, 6:00 – 7:30 pm
Session II: Saturday, April 11, 6:00 – 7:30 pm