Therapists & Researchers
The Clinician Trainee Award acknowledges clinician trainees who have excelled in their performance in an internship or clinical training setting. ADAA will give up to three awards, providing trainees the opportunity to attend the annual conference, meet with a senior clinician mentor there, and become involved with the organization.
Application deadline: November 20, 2014

Melissa Hunt, PhD
Associate Director of Clinical Training
Department of Psychology, University of Pennsylvania

Adjunct Assistant Professor
Behavioral and Community Health
University of Pennsylvania School of Dental Medicine
Dr. Hunt discusses why many people with panic, agoraphobia, or social anxiety disorder also have IBS.
People often jokingly point to odd habits or tidiness as signs of obsessive-compulsive disorder, or OCD. But the truth is OCD is a very real disorder that affects more than 2 million Americans, and there is a big difference between maintaining a morning routine or keeping a clean home and living with the disorder.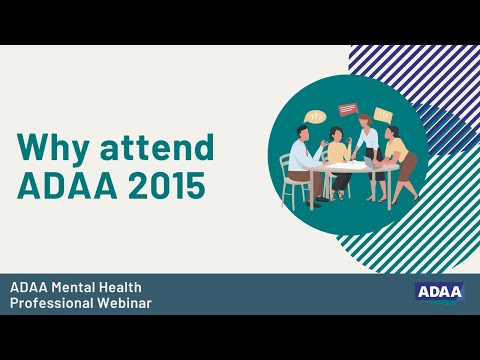 Dr. Reid Wilson, PhD, Director of the Anxiety Disorders Treatment Center in Chapel Hill and Durham, North Carolina, shares why the ADAA Annual Conference is so valuable for continuing your skills and training.
Watch
Find out why psychologist Dr. Karen Cassiday, Director of the Anxiety & Agoraphobia Treatment Center, Ltd., in Northbrook, Illinois, has been participating in the ADAA Annual Conference for more than 20 years.
Watch
Up close and personal, Conference Chair Darin Dougherty, MD, describes why he attends this important meeting every year.
Watch
Judith Cohen, MD
Medical Director, Center for Traumatic Stress in Children & Adolescents
Allegheny General Hospital
Pittsburgh, Pennsylvania
Professor of Psychiatry
Drexel University College of Medicine
Dr. Cohen discusses how children experience PTSD and effective treatments.