Older Adults
Post-Stroke Depression

Researchers studying stroke patients have found a strong association between impairments in a network of the brain involved in emotional regulation and the severity of post-stroke depression. (Radiology, published online June 5, 2012) Read more.
Gordon Asmundson, PhD
Professor, Department of Psychology, University of Regina, Canada
Adjunct Professor of Psychiatry, University of Saskatchewan

Investigator and leader, The Traumatic Stress Group
University of Regina
Saskatchewan, Canada
Roberto Lewis-Fernández, MD

Director of the Hispanic Treatment Program, New York State Psychiatric Institute
Associate Professor of Clinical Psychiatry, Columbia University
Lecturer on Social Medicine, Harvard University


Listen
Melinda Stanley, PhD
Professor and Head, Division of Psychology
The McIngvale Family Chair in Obsessive Compulsive Disorder Research
Menninger Department of Psychiatry and Behavorial Sciences
Mental Health Services Researcher, Houston Center for Quality of Care and Utilization Studies
Michael E. DeBakey Veterans Affairs Medical Center
Affiliate Investigator, South Central Mental Illness Research,
Education, and Clinical Center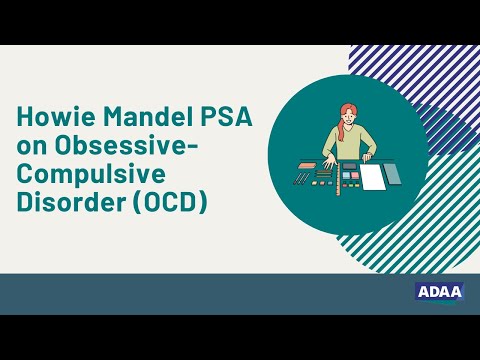 TV personality and actor Howie Mandel shares his struggle with obsessive-compulsive disorder (OCD) in a public service announcement for the ADAA campaign Treat It, Don't Repeat It: Break Free From OCD.
Watch
Patricia Gerbarg, MD, and Richard Brown, MD
Patricia Gerbarg, MD
Assistant Clinical Professor in Psychiatry
New York Medical College
Richard Brown, MD
Associate Clinical Professor of Psychiatry
College of Physicians and Surgeons
Listen
Diagnosis and treatment should start with the primary care physician. Many older people feel more comfortable talking to a doctor with whom they already have a relationship. If they trust their primary care physician, chances are greater that they will accept treatment or a referral to a mental health professional.
Success in treating anxiety in an older adult depends on a partnership between the patient, the family, and the doctor. Everyone must agree on the nature of the problem and make a commitment to stick with treatment.