College Students
Painkiller Abuse Linked to Depression, Suicide in College Students

Researchers found that college-students who reported feeling hopeless, sad, depressed, or considered suicide were significantly more likely to report nonmedical use of any prescription drug, particularly among females who reported painkiller use. (Addictive Behaviors, 2012; 37(8):890) Read more.
Coping Strategies
Try these when you're feeling anxious or stressed:


Take a time-out. Practice yoga, listen to music, meditate, get a massage, or learn relaxation techniques. Stepping back from the problem helps clear your head.


Eat well-balanced meals. Do not skip any meals. Do keep healthful, energy-boosting snacks on hand.


Limit alcohol and caffeine, which can aggravate anxiety and trigger panic attacks.
Gordon Asmundson, PhD
Professor, Department of Psychology, University of Regina, Canada
Adjunct Professor of Psychiatry, University of Saskatchewan

Investigator and leader, The Traumatic Stress Group
University of Regina
Saskatchewan, Canada
Roberto Lewis-Fernández, MD

Director of the Hispanic Treatment Program, New York State Psychiatric Institute
Associate Professor of Clinical Psychiatry, Columbia University
Lecturer on Social Medicine, Harvard University


Listen
"I had an overwhelming foreboding that something terrible was about to happen to me, and I wouldn't be able to escape. "
My college life was enriched with family, friends, sorority sisters, successful academic achievement, and a loving boyfriend. But one night, a terrifying new element was suddenly added. Lying in bed, I began to sweat profusely. My heart was racing and I could not stay still. I had an overwhelming foreboding that something terrible was about to happen to me, and I wouldn't be able to escape. When I called my dad to explain my symptoms, he suggested that I go to the hospital.
Read
"I felt a tingling sensation spread throughout my chest. A sudden fear of death seemed to come from nowhere."
My name is Jacob. I'm 20 years old and this is my story:
It all started on what seemed like a regular day in my sophomore year of college. I went to all my classes and got back to my dorm room at about 5 p.m. When I checked to see if my roommate was in yet, I found him lying on the floor by his bed. He had died of a heart attack at 20 years old.
Read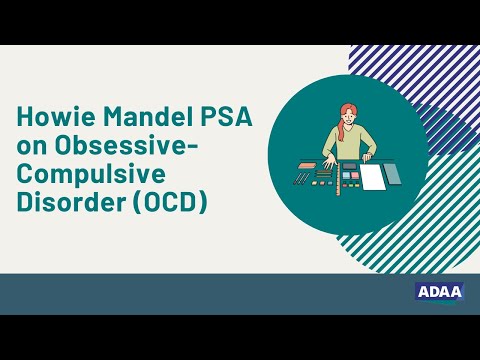 TV personality and actor Howie Mandel shares his struggle with obsessive-compulsive disorder (OCD) in a public service announcement for the ADAA campaign Treat It, Don't Repeat It: Break Free From OCD.
Watch